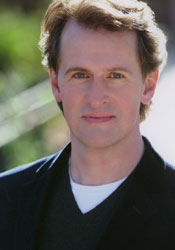 Following a very successful run in the Broadway Company, Ted Keegan starred in the National Tour of THE PHANTOM OF THE OPERA, performing the role in 24 States across the country. He has appeared as The Phantom on TV, performing live from Rockefeller Center for the "Today Show" on NBC. He has sung the role in front of the
largest live audience ever, making a spectacular flying entrance from the dome of Madison Square Garden singing "The Phantom of the Opera" during the half-time show of the NBA All-Star Game. Most recently, Ted appeared in the Las Vegas production of THE PHANTOM OF THE OPERA.
Ted made his Broadway debut in the highly acclaimed 1989 revival of SWEENEY TODD, where he was seen as Anthony. Broadway and National Tour credits include CYRANO: THE MUSICAL, Mordred in CAMELOT with Robert Goulet, Freddy IN MY FAIR LADY, Herman in THE MOST HAPPY FELLA, Constantine in A NIGHT IN HOLLYWOOD/ A DAY IN THE UKRAINE and starred in the European Tour of the Arthur Kopit/Maury Yeston version of THE PHANTOM.
A consummate concert artist, Mr. Keegan starred in the George Gershwin Centennial Celebration, where he performed 'Unpublished Gershwin' at the opening of the George and Ira Gershwin Room at the National Archives in Washington, DC, which The New York Times reviewed as one of the ten best musical events of the year. Ted has sung at the opening of the Santa Fe Chamber Music Festival, appeared in the Frank Loesser Celebration in New York City and was a soloist at Lincoln Center's Avery Fisher Hall, singing Unheard Bernstein.
Recently, Ted hosted the Yuletide Celebration in Indianapolis, singing with the Indianapolis Symphony Orchestra. Ted has performed with the Detroit, Syracuse, Seattle, Edmonton, Charleston, WV, Portland, Pittsburgh, Ottawa, Baltimore, Las Vegas, Fort Worth symphonies and the Dayton Philharmonic, as well as the National Symphony at the Kennedy Center.